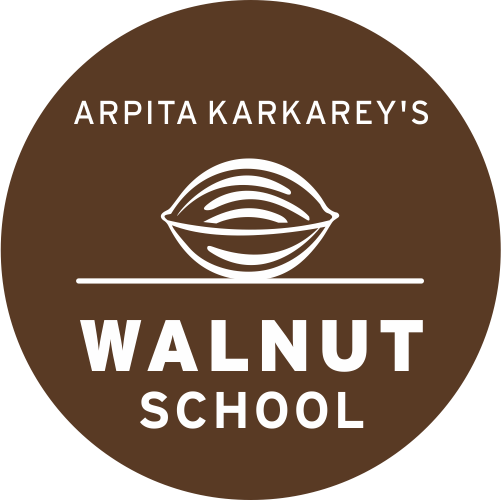 Dear Parents,
Welcome to the new academic year. Given below is an overview of different subjects and how they will be dealt with in the classroom. In the Walnut system, our planned academic approach allows us to teach not just the textbook matter, but also provide extra input to the student.
The syllabus is planned such that it teaches all the required skills of the class and then some more! For some subjects the textbooks are being used as reference books, for some they are used directly in the classroom. In some,the order of lessons is tweaked. You will also see some topics being taught that are over and above the textbook. In some topics, greater depth is sought too. Our weekly emails inform you as to which topic is being taught in class and what year it is a part of.
Students will not be writing answers on the printed sheets. They will get separate plain sheets for that in the class. Therefore, one printed sheet may be used across multiple periods. So, students have to keep bringing that printed sheet back to class in the folder till it is completely solved. Once that is done, they can keep the sheet at home and file it. Answers to questions are sent on a separate sheet after the chapter is over.
The focus of the classroom time is for teaching and discussion. Whatever time is left will be used for worksheet solving. Since all the important questions are already discussed, students are expected to be able to handle worksheet exercises on their own. So, the remainder of the worksheet allotted for that day has to be completed at home (as homework) and brought back to class the next day and handed over to the teacher. Bringing back homework regularly helps the children stay tuned to the teaching.
प्रिय पालक,
वेगवेगळे विषय आणि शाळेत ते कशाप्रकारे शिकवले जाता याचा आढावा खाली दिलेला आहे. वॉलनट संकल्पनेत मुलांना फक्त पुस्तकी ज्ञानच नाही तर अधिक माहिती देखील दिली जाते.
आपला अभ्यासक्रम अशा प्रकारे तयार केला आहे की त्यामध्ये मुलांना लागणारी सर्व कौशल्ये शिकवली जातात. काही विषयांसाठी पाठ्यपुस्तके फक्त संदर्भासाठी वापरली जातात तर काही विषय थेट पाठ्यपुस्तकातून वर्गात शिकवले जातात. काही विषयांमध्ये धड्यांची रचना शिकवताना बदलली आहे. तसेच काही धडे पाठ्यपुस्तकाच्या व्यतिरिक्त शिकवले आहेत.
आता मुले वर्कशीट वर उत्तरे लिहिणार नाहीत. त्यांना वर्गात स्वतंत्र शीट दिली जाईल. त्यामुळे कदाचित एक वर्कशीट अनेक दिवस शिकवली जाईल. त्यामुळे जोपर्यंत ती वर्कशीट पूर्ण सोडवून होत नाही तोपर्यंत मुलांनी ती शाळेत आणायची आहे. एकदा ती शीट पूर्ण झाली की मुले ती घरी फाईलमध्ये लावून ठेऊ शकतात. एखादा धडा शाळेत शिकवून झाल्यानंतर त्याची उत्तरपत्रिका पाठवली जाईल.
तासाचे मुख्य ध्येय शिकवणे आणि त्यावर चर्चा करणे हे आहे. जितका वेळ उरेल त्या वेळात मुले वर्कशीट सोडवणार आहेत. सर्व महत्त्वाचे प्रश्न शाळेत तोंडी सोडवले जातील त्यामुळे मुलांनी प्रश्न स्वतःचे स्वतः सोडवणे अपेक्षित आहे. वर्कशीट वरील जे प्रश्न राहिले असतील ते मुलांनी घरी सोडवावे आणि दुसऱ्या दिवशी शाळेत शिक्षकांना तपासण्यासाठी द्यावे.