Welcome to Arpita Karkarey's Walnut School Fursungi Campus!
Welcome to Arpita Karkarey's Walnut School Fursungi Campus!
Welcome to Walnut School Fursungi, the second branch of the premier CBSE school in Pune.
At Walnut School Fursungi, we strive to create a nurturing and stimulating environment that fosters all–round development and empowers young minds to become future-ready individuals. Our school prides itself on its unique features, including a bagless school concept, subject-specific classrooms, daily sports, a meticulously planned academic system, and personalized learning. With a commitment to academic excellence, we provide our students with the best possible learning environment, where they can flourish and grow.
Run by educationists, we understand that the classroom environment plays a crucial role in a student's learning experience. Therefore, we have implemented innovative teaching methods and technology-driven learning to make our classrooms more interactive and engaging.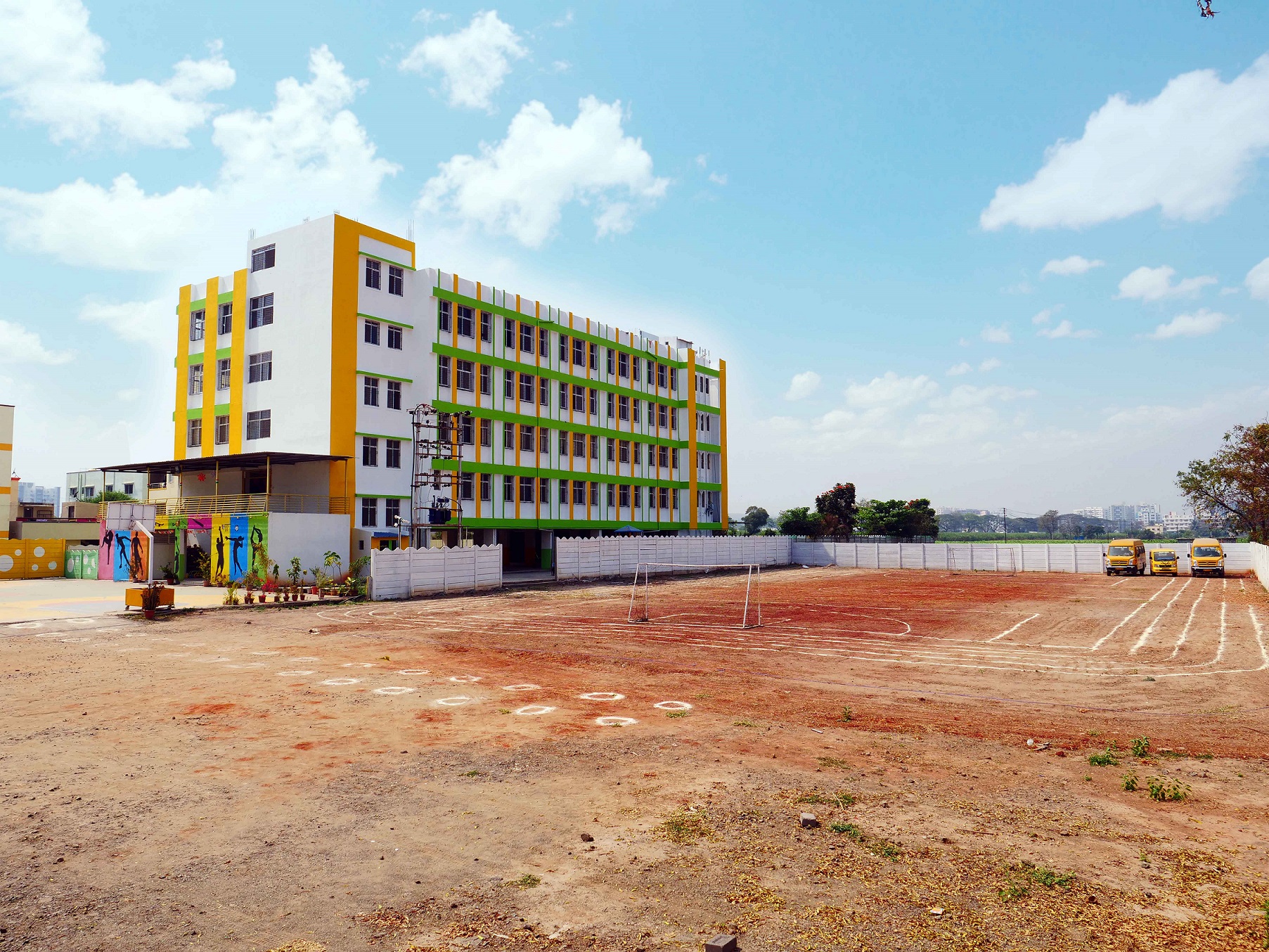 All this with no trouble for our parents! We have frequent communication with our parents and maintain transparency with the academic progress of students and also about fees. With all the events that we have, parents have no hassle of getting their students ready – we do it all!

Pre primary schooling at Walnut School Fursungi

Pre primary schooling at Walnut School Fursungi
The Baby Walnut section at Walnut School Fursungi is a dedicated and lively campus exclusively designed for our youngest learners. Here's why it stands out as a safe and nurturing environment for their growth and development :
Exclusive Area

: Baby Walnut has its own dedicated wing, ensuring that our kindergarten students have a space tailored to their needs. They have access to facilities and resources designed specifically for them, separate from the older students.

Scaled-down facilities:

Everything in Baby Walnut is scaled down to their size, ensuring a perfect fit for their needs. From furniture to play areas, everything is designed to provide variety and stimulation.

Playful Learning Spaces:

The Baby Walnut section features play structures and different play areas, enabling children to develop their gross motor skills while having fun. The lobby floor itself is designed to be enjoyable, offering a safe and exciting environment for our kindergarteners.

Safe and caring environment:

The Baby Walnut campus is well-maintained, providing a safe and secure space for our Kindergarten students. Our dedicated teachers and staff are attentive and ensure a nurturing atmosphere.

Academic focus:

At Walnut School Fursungi, we take academics seriously right from Kindergarten. The Baby Walnut program covers essential subjects such as science, EVS, math, and English language skills, emphasizing foundational reading and writing abilities. No other kindergarten comes close to what we do for academic reinforcement.

Reading skills: Our focus on reading starts in Nursery, allowing children to comfortably read short stories by the end of Sr. KG. In fact, our Kindergarten students can read books at the level of Std. 2!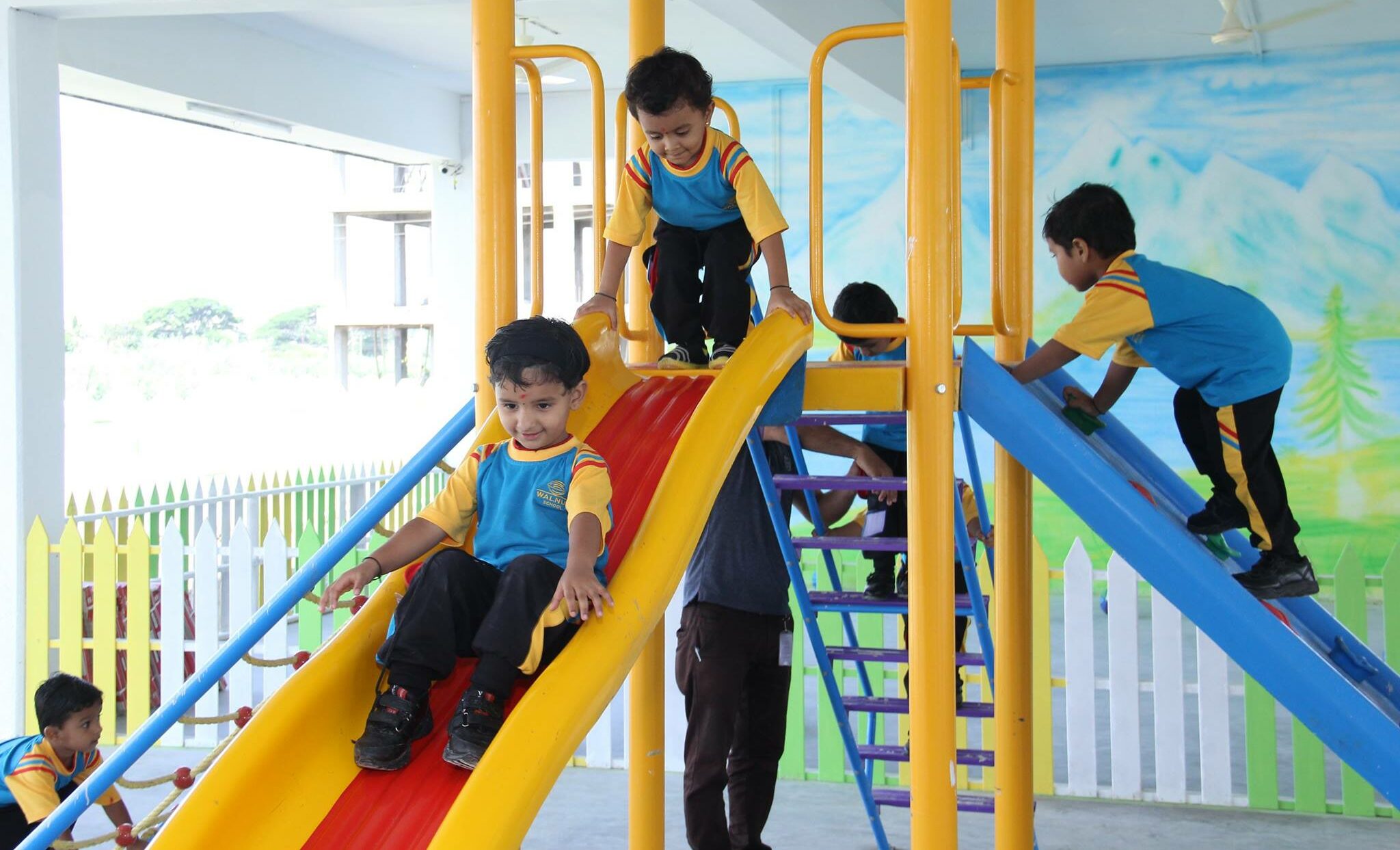 Subject-specific classrooms:

Right from Nursery, children at Baby Walnut benefit from subject-specific classrooms. These specially designed rooms have unique themes, furniture, and ambience that align with the activities and learning experiences offered. They even have a separate reading corner to foster a love for books. This approach keeps children interested and engaged throughout the school day.

Libraries and computer labs:

Baby Walnut students have access to their own libraries and computer labs. These resources are tailored to suit their learning needs and help foster a love for reading, exploration, and technological literacy from an early age.

Motor Skills and engagement

: Through activities like drawing, craft, songs, and dance, we refine motor skills and keep our little ones engaged in a fun and interactive manner.

Emphasis on dining etiquette

: Baby Walnut provides a separate dining area for our little ones, allowing them to develop proper eating habits and hygiene. Here, they learn table manners and the importance of maintaining cleanliness while enjoying their meals.

Preparation for the future: The pre-primary Baby Walnut program at Walnut School Fursungi plays a crucial role in preparing students for primary education and beyond. It fosters creativity, curiosity, and critical thinking, preparing our students for the exciting learning journey that lies ahead.

Primary school at Walnut School Fursungi

Primary school at Walnut School Fursungi
The Primary Section at Walnut School Fursungi is where we dedicate ourselves to establishing a solid educational base for our students. Here are a few of the unique qualities that set our Primary Section apart :
Comprehensive curriculum:

Primary education at Fursungi focuses on building a solid foundation in all subjects, including languages, mathematics, science, and social studies. Our curriculum strikes a balance between academics, co-curricular activities, and extracurricular pursuits, fostering the holistic development of our students.

Innovative subjects:

Interesting and innovative subjects, such as language arts, mental math, speaking, strategic thinking, economics and financial literacy, are introduced  at the primary level. These subjects equip students with essential life skills that they can apply throughout their lives.

Focus on reading skills:

Reading skills are continually developed through dedicated reading classes included in the timetable for Std. 1 to Std. 4. This emphasis on reading helps students become proficient readers and cultivates a love for literature.

Computational thinking: Walnut students gain valuable knowledge about computers and computational thinking through the CSPathshala program of ACM and Google (our co-founder Nikhil Karkare is also one of the co-founders of CSPathshala). Std. 3 onwards, students learn working in Scratch, and also start formulating algorithms for more complex tasks with loops and patterns.
Planned learning and evaluations:

Our planned learning approach incorporates regular revisions and evaluations as part of the routine. From Std 1, students begin preparing for exams, with three practice tests before each exam to familiarize themselves with the format, time management, content handling, and the actual exam scenario. This approach makes examinations a stress-free experience for both students and parents.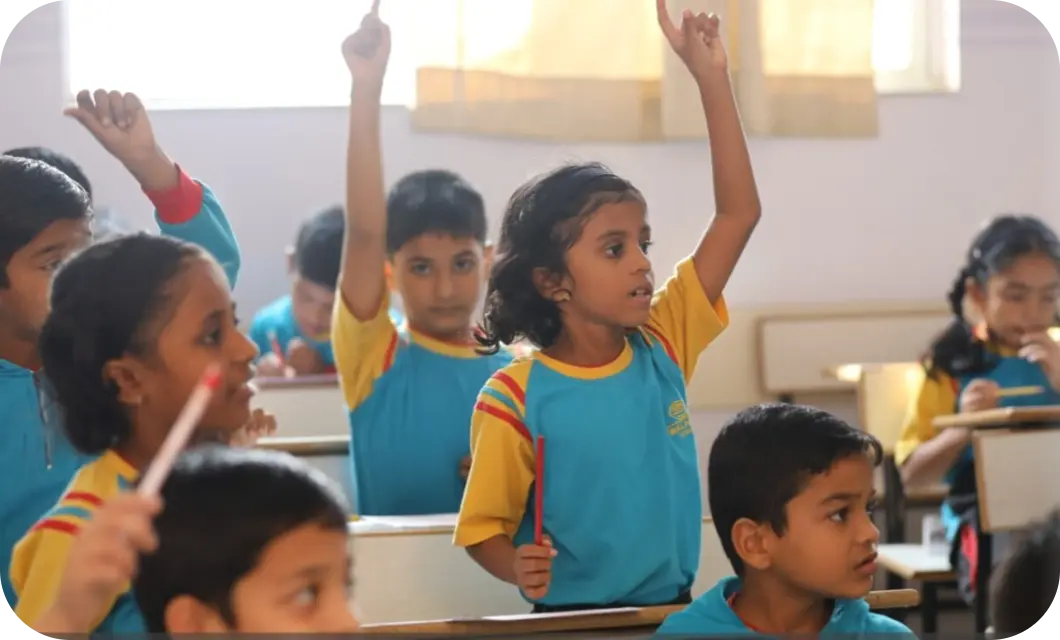 Sensible homework:

Students receive timed, age-appropriate homework that they can complete independently, encouraging self-reliance and reinforcing the concepts learned in class. The aim is to encourage them to explore the study materials deeply and apply their knowledge to real-world situations, and not to hassle parents with craft projects.

Competitive exam training:

Training for standard 5 Scholarship is done in the school routine itself.

Enriching Co-curricular Activities: Events like Carnival, Electric Saturdays, debates, sports days and competitions provide ample opportunities for students to showcase their talents. With so many events happening regularly, a lot of performance art training happens in Walnut school. Students learn acting, dancing, singing, speeches and dramatized readings. All children participate in events without any additional charges for participation, training, or costumes.
Parent engagement:

Parents are kept in the loop through weekly updates about their child's classroom activities and hands-on experiences using the Wal-Sh app. Multiple parent-teacher meetings are scheduled throughout the year, providing personalized feedback and opportunities for parents to meet subject teachers.

Secondary school at Walnut School Fursungi

Secondary school at Walnut School Fursungi
Welcome to the Secondary section at Walnut School Fursungi, where students embark on their "real" school phase with enhanced facilities and a comprehensive academic experience. Here's an overview of what makes our Secondary section exceptional :
Academic Rigor

: Secondary school marks a crucial phase of a child's education, where they encounter serious subjects, extensive material, and a higher number of exams. At Walnut School Fursungi, we continue our bagless school approach, subject-specific classrooms, and sensible homework policy to ensure a productive learning environment.

Personalized teaching

: Teaching methods are personalized and adapted to the needs of the students through differential learning. This approach ensures that every student receives the support and guidance required to thrive academically.

Board exam preparations

:

Starting from Std. 1, we lay the foundation for students to be well-prepared for their board exams. Our approach gradually accelerates through primary school and further intensifies in higher classes, allowing ample time for multiple rounds of prelims in Std. 10. Revision and test periods after every chapter, beginning from Std. 8, ensure thorough understanding and practice.
Regular assessments :

Regular revision and test periods are integrated after every chapter, we help students develop the habit of studying for tests and appearing for them regularly. This approach normalizes exams, reducing pressure and enabling students to perform at their best.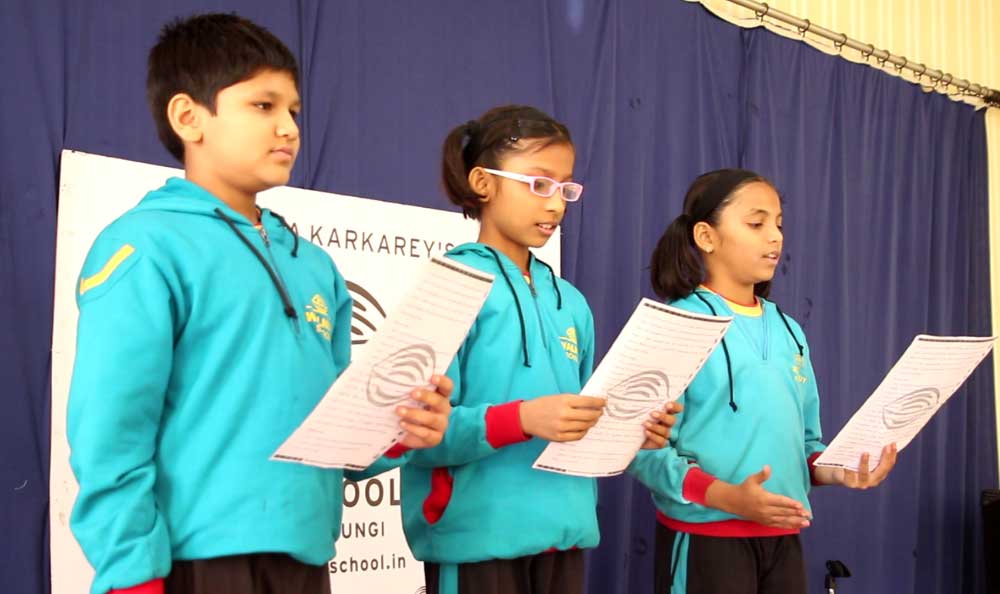 Continued daily sports:

Our students enjoy daily sports periods throughout secondary school, ensuring the inclusion of physical activity in their routine. This promotes overall well-being and a healthy lifestyle.

Enriching co-curricular Subjects:

Alongside the regular CBSE subjects, we offer enriching co-curricular subjects such as information transfer, computational thinking, strategic thinking, hands-on activities, and public speaking. These subjects enhance students' skills and prepare them for real-world challenges.

Active participation in extracurricular activities

: Secondary students actively participate in various extracurricular activities, including carnival, slumber party, sports day, science fair, entrepreneurship fair, and more. We encourage participation from all students without any additional charges for participation, training, or resources.

Efficient Logistics Management:

Walnut School has a dedicated team that manages logistics behind the scenes, including creating question banks, setting papers and model answers, communicating with parents, and scheduling classes. This allows our teachers to focus on delivering quality education and providing feedback and support to students.

Faculty at Walnut school Fursungi

Faculty at Walnut school Fursungi
We believe that good teachers are key to creating a supportive and nurturing learning environment.

The school takes pride in having some of the best teachers in the industry who are selected through a rigorous process.

Teachers receive regular training from the R&D team led by Dr. Arpita herself to keep up with the latest teaching techniques and methodologies.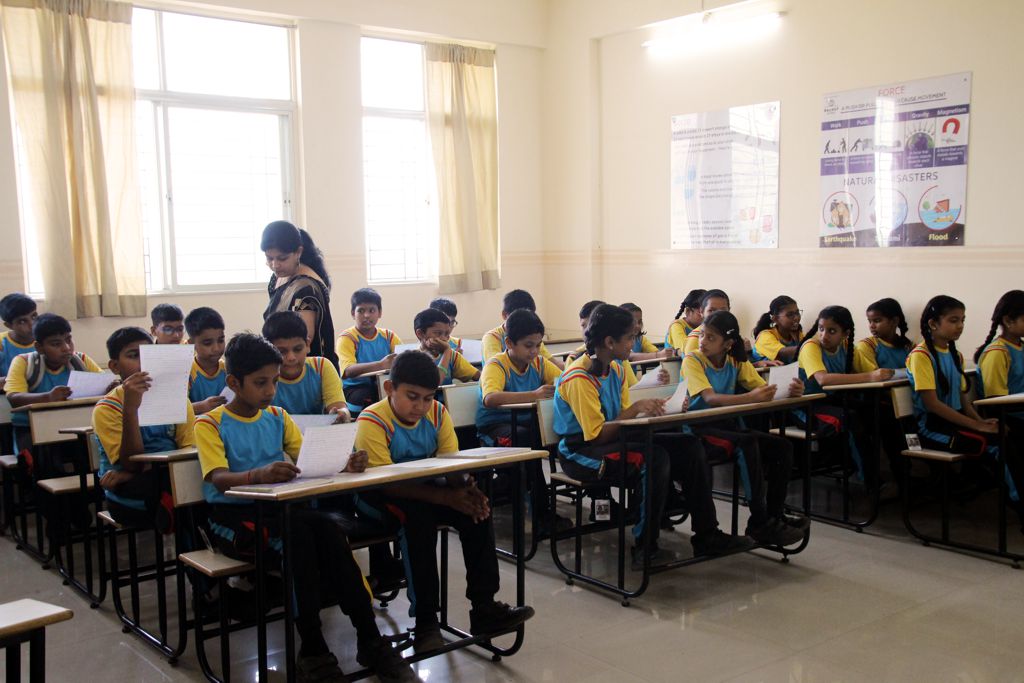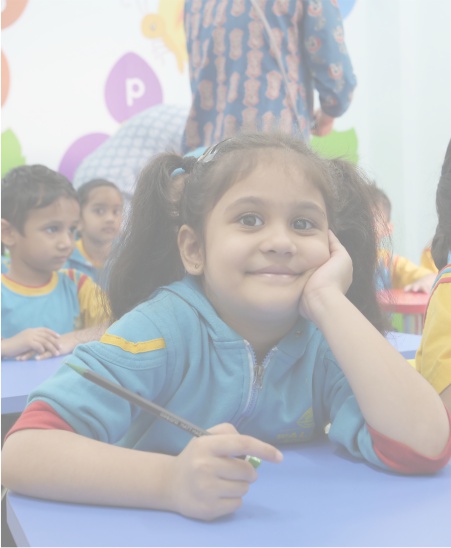 How do you secure admission to Walnut School?
The procedure for admissions is really simple. Click on the link to find out.
Contact Us
Reach Us
Purva Campus Next to Fursungi Bus Stop, Fursungi Pune – 412308
For Admission :