Walnut school Shivane fee structure
Walnut school Shivane fee structure
The oldest branch of the prestigious Walnut School family, Walnut School at Shivane has a beautiful campus with three buildings, one building each dedicated to our kindergarten, primary and secondary sections. The campus features several indoor as well as outdoor play areas, including a huge 2 acre playground where the school carnival and sports day are held. 
All the three buildings boast of top-tier infrastructure, including state-of-the-art classrooms, laboratories, computer rooms and a well-stocked library. It has all the unique features of the Walnut education system, including bagless school, subject specific classrooms, daily sports, a perfectly planned academic system, and personalized learning, and is committed to providing our students an enriching academic environment that goes beyond traditional methods.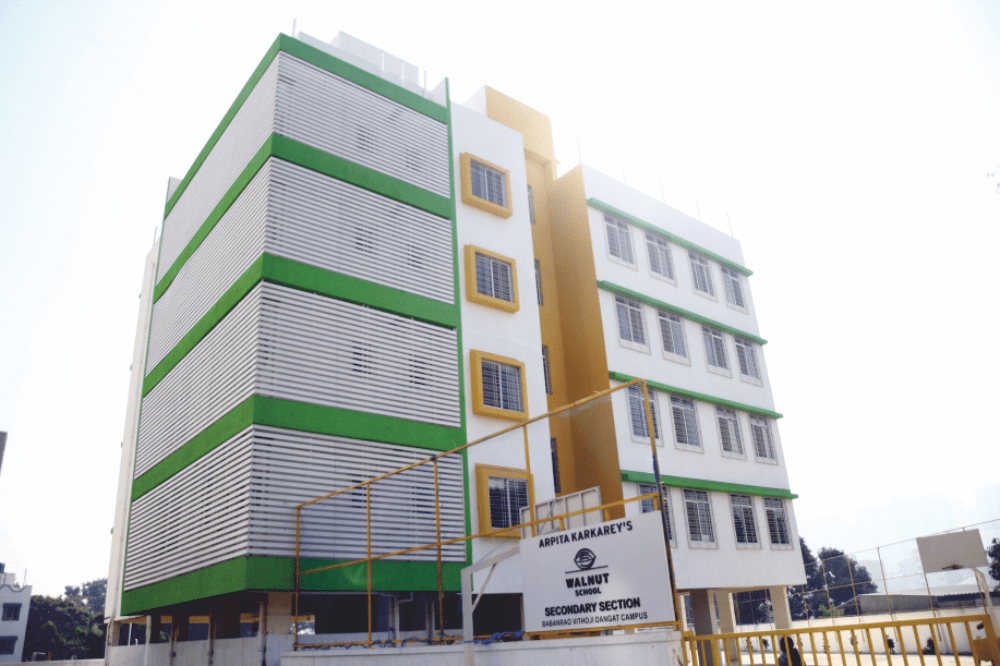 Admission procedure at Walnut school
Admission procedure at Walnut school
Walnut school Shivane has a simple and transparent admission process with clear guidelines and instructions provided. 
Visit and tour

: Parents are encouraged to visit the school and take a tour of our infrastructure and facilities, providing a firsthand understanding of the Walnut School philosophy.
Guidelines and instructions

: Clear guidelines and instructions are provided, ensuring a transparent and straightforward admission process.
Admission form: Parents can fill in the quick and easy admission form, providing necessary details and completing all formalities.
Document Submission: All required documents for admission can be submitted as per the guidelines available on the documents and procedures page of the Walnut School website.
Confirmation

: Once the admission form and documents are submitted, the admission is confirmed.
Walnut School Shivane strives to make the admission process hassle-free, ensuring a smooth transition for students and their families.
Unique features of the Walnut school Shivane fee structure
Unique features of the Walnut school Shivane fee structure
Walnut school Shivane is a linguistic minority institution. We pride ourselves on our transparent fee structure. Here is a brief overview of the fees structure at Walnut School Shivane:
Transparent Fee Structure:

We believe in maintaining transparency with our parents and provide a fee structure with projections up to Std. 10, declared in advance. This allows parents to plan their finances accordingly.

Inclusive Event Fees

: Unlike other schools, Walnut School does not demand separate fees for individual events or gatherings. All event-related expenses are already included in the mentioned fees. This ensures that parents do not have to bear additional financial burdens for various school events.

No Admission Donations:

At Walnut School Shivane, we do not accept any donations for admissions. We believe in a fair and merit-based admission process, ensuring equal opportunities for all students. 
Exclusions

: It's important to note that the fees listed exclude transport and uniform fees. These fees may be separate and specific to individual requirements.

External Financing Options:

Walnut School Shivane offers external financing options upon request. We understand that financial situations may vary, and we are committed to assisting parents in finding suitable financing solutions for their child's education.

Curricular Material Fee:

The curricular material fee, which covers the learning system implemented at the school, is to be paid directly to the vendor. 
At Walnut School Shivane, we strive to provide a comprehensive and transparent fee structure that supports our commitment to academic excellence and holistic development.
Midterm admissions at Walnut school Shivane
Midterm admissions at Walnut school Shivane
The students seeking admission in the middle of the term need to pay the full year fees. If a student leaves the school before the end of the academic year, fees will be payable for the full academic year. 
In case of cancellation of admission, any fee paid will not be refunded or adjusted.
Contact Us
Reach Us
CBSE Affiliation No: 1130884
Babanrao Vithoji Dangat Campus
NDA Road, Shivane
Pune – 411023
For Admission :