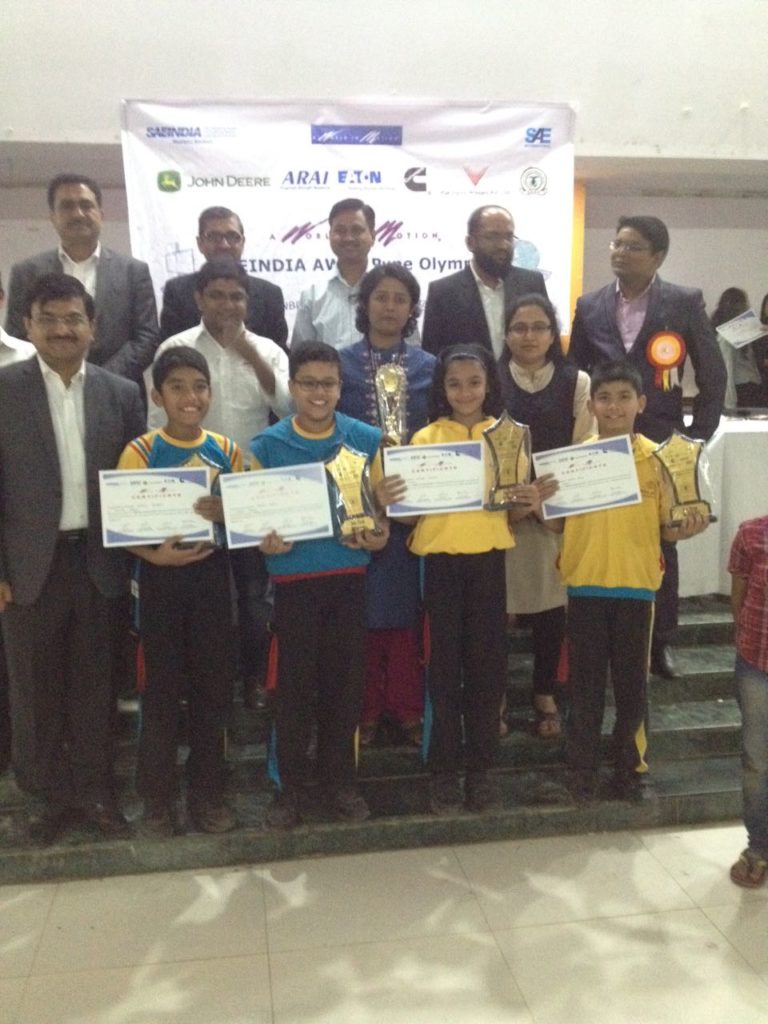 Our Std. 6 students have become the stars of Pune! Raj Bapat, Eeshan Sumant, Alisha Mhetre and Aryaveer Khan recently took part in a competition designed by the Society of Automotive Engineers (SAE) on ​10th of December 2016 ​It was called 'A World in Motion' (AWIM). The challenge was to design a motorized toy car and guess what?
Our team is #1 in Pune!
They won the school level and the interschool level competitions and now will head to Delhi for the national level competition to represent Pune city!
These four car lovers got together to design a toy car model for the competition every Saturday for four months, guided by their teacher, Navin Sir. Mr. Navin is actually a development engineer with ​John Deere. ​What an experience to directly learn from someone who is in that field himself. All our Std. 6 students got this exposure. They had an interschool competition on 10th of December 2016 and the winning team went on to compete at city level.
They assigned themselves positions in their team and came up the brilliant concept of a convertible 'car-cum-plane' that can plant trees on earth by blasting mud and water missiles and in turn, reduce global warming. Eeshan was the Project Engineer, Aryaveer, the Facility Engineer and Alisha and Raj were the Test Engineers.
Team Walnut competed with 38 teams at the interschool competition. Along with the overall prize, they also went on to win the Maximum Time on Track Award.
To prepare the model, they brushed up on the scientific concepts of thrust, friction and Newton's laws which worked rather to their advantage. Preparing for the next level means more hard work, more designing, more research and more practice.
Here's wishing them all success, lots of learning and fun zooming!