Board Games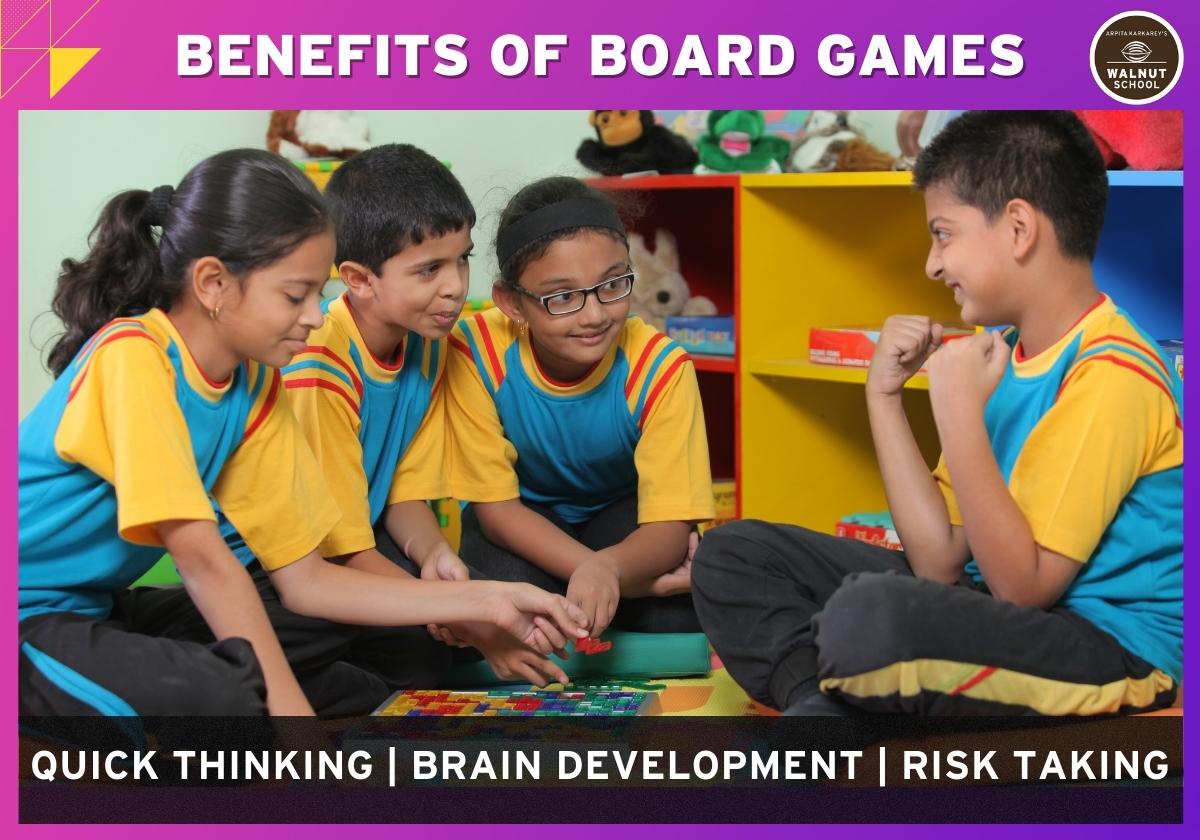 Playing board games is part of the curricular program at Walnut School. This helps to work on several very critical life skills in the students which cannot be developed in any other way.
Quick thinking, Risk taking : stakes are low. It doesn't matter if they lose, but they see the consequences of their actions. This helps them practice quick assessment of the situation and analysis.
Brain development : It improves memory and cognitive skills, increases processing speed, develops logic and reasoning, improves critical thinking, boosts spatial reasoning, increases attention and concentration and teaches problem-solving.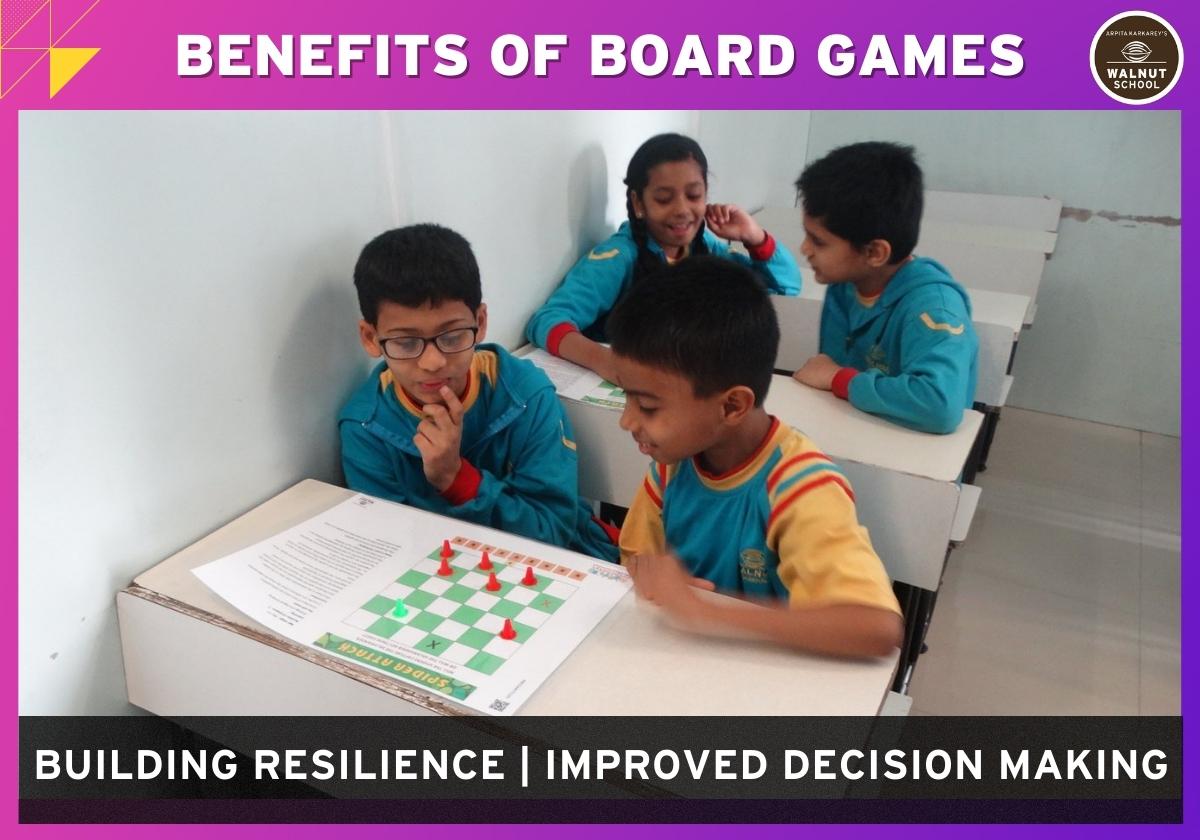 Building resilience, improved decision making : As children become comfortable with failing, they learn from their mistakes. They also have to figure out how to make a comeback, do damage recovery etc. They get to negotiate, compromise and manage restrictions. They get a chance to guess from body language, facial clues and tone. They get a chance to do all this in a safe environment.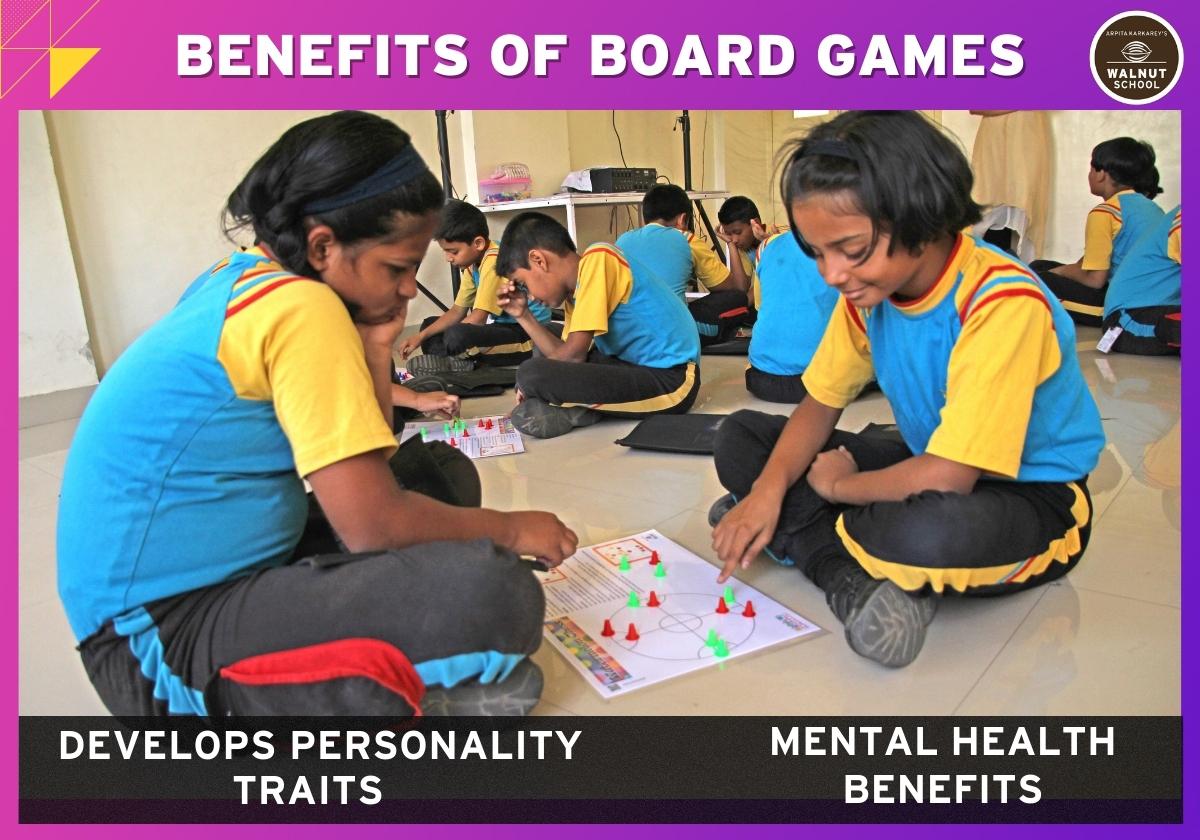 Develops personality traits :Sportsmanship, interpersonal skills, confidence and understanding, being part of a team, verbal and communication skills.
Mental health benefits : Laughing, reducing stress, relaxation, making memories, reducing isolation!
So, which board games do the students play at Walnut School?
At Walnut, we have carefully selected board games from all over the world. We have modified them keeping in mind the age of the children and the skills that they already have.
We also have to make sure that the students finish a round in about 10 minutes so that they can play 2 more rounds and apply their learning and new strategies in the subsequent games. They can also switch partners so that they get to face different gaming styles.
The whole classroom becomes a gaming zone. It's so much fun to watch that you can only imagine how amazing it must be to be a student in such a program. The students are getting smarter, making memories and creating good, strong neural pathways in their brain to use in the future.
At Walnut School, our students play a lot of abstract strategy games including puzzles, board games and card games.  This is just one of the things we do to make our students tough outside and smart inside. Visit our school to find out more!
Check out some of our sample board games that you can download for free!
Walnut School – Std. 1 Board Game
Walnut School – Std. 2 Board Game
Walnut School – Std. 3 Board Game
Walnut School – Std. 4 Board Game
Walnut School – Std. 5 Board Game
With all these benefits, how can you even imagine a school without board games