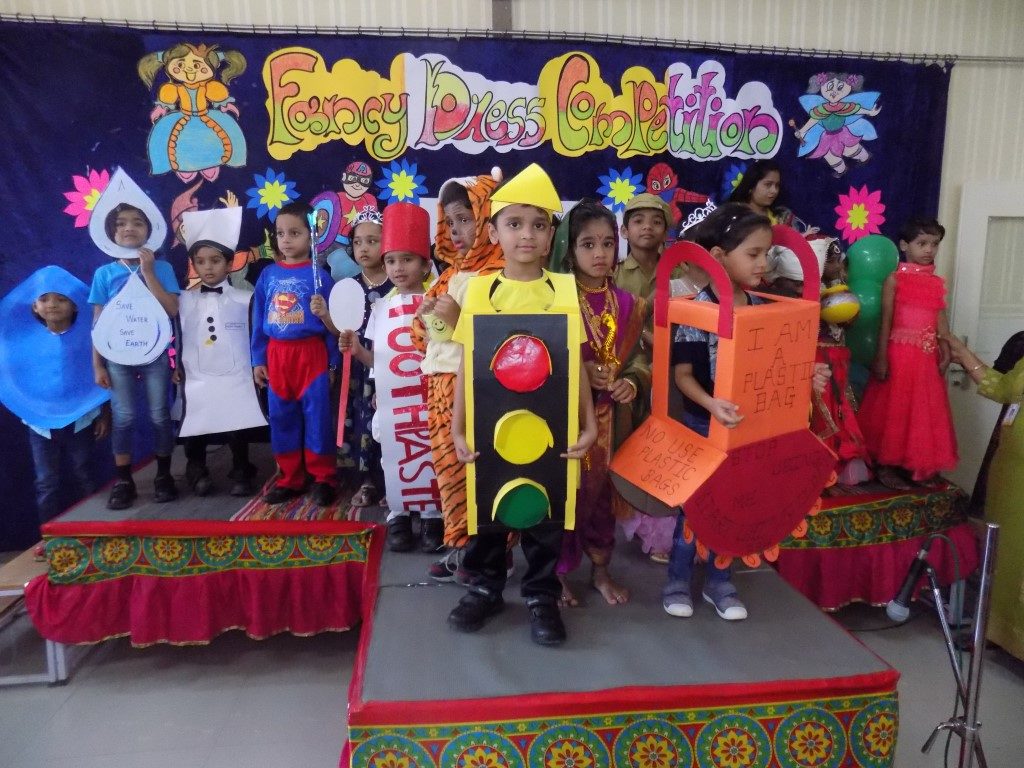 The whole world is fascinating to a child and triggers the process of make believe. One day they may want to be an astronaut. The very next day, they may fancy being their favourite fruit. The list is endless, and so is their fascination! A wave of the magic wand would usually grant them these wishes.
But is that really possible in the real world? Of course not!
Is that the end of the young ones' fancies then? Need not be!
At Walnut, we let our Baby Walnut kiddos live their fancies for a day – against the enthusiastic backdrop of a colourful stage and an adoring audience!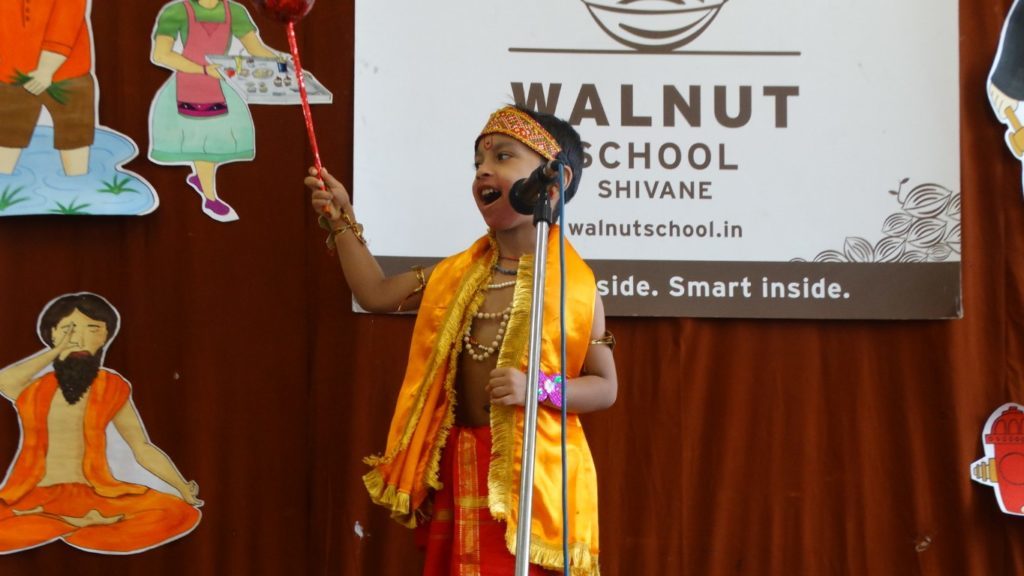 The Fancy Dress Competition was held at both our schools on Saturday, 28 July 2018. Dressed up in different costumes, the students got a chance to live and explore their fascination for a few moments. Being accompanied by parents and close ones, the students acted out their parts with tremendous zeal and enthusiasm.
It wasn't a smooth ride for our young ones; many of whom faced an audience for the first time. Some fumbled. Some became very nervous; and couldn't hold their tears back. This is where the teachers, parents and audience came into play. Their kind words, and loud cheers sprinkled magic! And our kiddos were back in business again. It was one heart-warming sight to witness!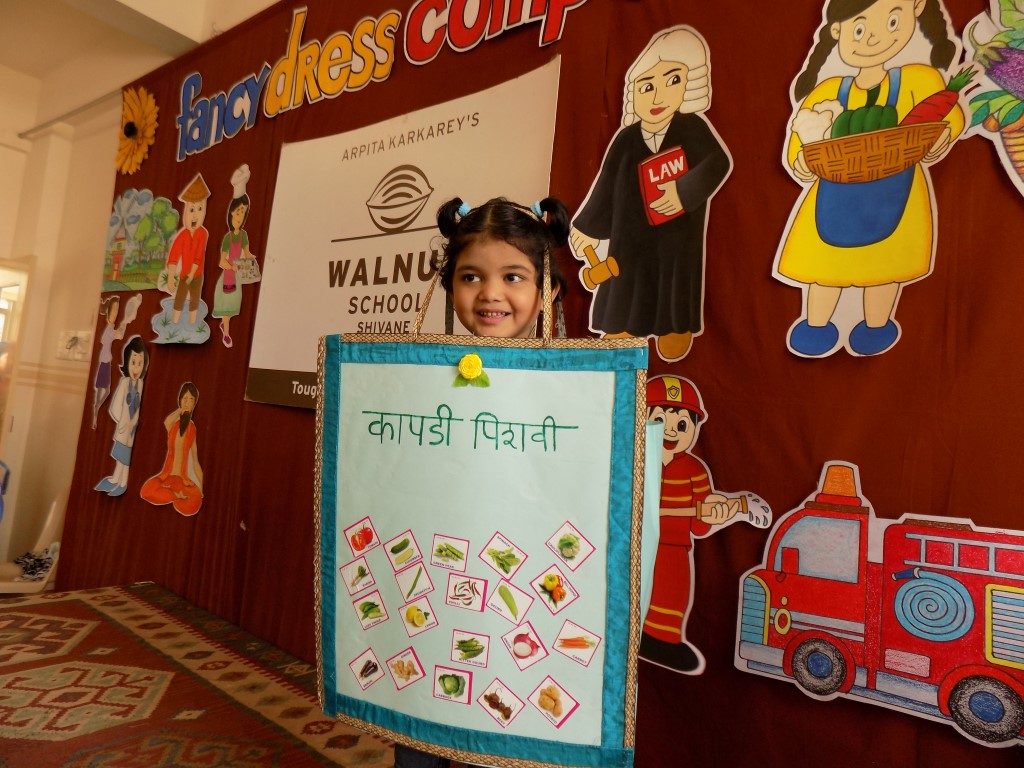 One after another, their creative ideas made it a challenging task for judges to judge.
But, after a tough call, here are the winners.
Walnut School Shivane
Nursery : Amey Kulkarni (Swan) – Winner
Arya Kulkarni (Rani Laxmibai) – Runner up
Junior : Anwesha Somwanshi (Plastic Bag) – Winner
Arnav Kale (Rainbow) – Winner
Arnav Vaidya (Ramdas Swami) – Runner up
Senior : Tanvi Patil (Poor girl) – Winner
Chinmay Pande (Seed) – Runner up
Vibhuti Patil (Earth) – Runner up
Walnut School Fursungi
Nursery: Shivanshi Bhadale (Save Girl Child) – Winner
Gargi Deshmukh (Robot) – Runner up 1
Shubhra Phale (Water) – Runner up 1
Swaraj Patil (Bahubali) – Runner up 2
Junior : Mahi Chauhan (Air Hostess) – Winner
Mrunmay Malwadkar (Shepherd) – Winner
Vedika Kamathe (Jhansi Ki Rani) – Winner
Shashvat Shandilya (Hanuman) – Runner up 1
Rudra Phate (Sant Dhyaneshwar) – Runner up 1
Shivansh Zende (Potraj) – Runner up 1
Kartik Shinde (Tree) – Runner up 1
Mishka Gaikwad (Honey Bee) – Runner up 2
Neel Chatre (Tooth) – Runner up 2
Rudra Raut (Singham) – Runner up 2
Senior : Pratishtha Phate (Radha) – Winner
Swara Harpale (Plastic Bag) – Winner
Swara Godse (Jijabai) – Runner up 1
Kartik Bhut (Toothpaste) – Runner up 1
Bojane Bhagat Singh (Ashok Stambh) – Runner up 2
Arya Jadhav (Smoking is Injurious) – Runner up 2
It was always going to be super hard for our judges to choose the best! And since each one had really worked hard to participate, each child got a participation prize as well. That helps to keep the participation enthusiasm and spirit alive![
Why do we have so many competitions at Walnut? Watch this video to find out more about the thought behind the fancy dress competition.