Sleepovers, slumber parties, and overnights: Whatever you call them, they are heaven for kids but hell for the parents who host them. Overly excited children, social conflicts, some homesick children are quite an experience. But what if the school is hosting a slumber party? Yes, you heard that right. Being an awesome school we at Walnut organize parties for children which are enjoyable and cool. This year too we had organised a Slumber Party for the students from standard 5 to standard 8, for both schools. And the response we got was overwhelming!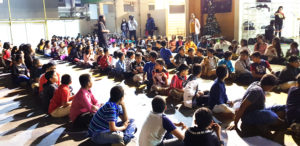 For our Shivane School, the slumber party was held for two days, while at our Fursungi school, it was held for one day. We had organized so many fun activities like Acid River, Balloon Rail, Tie Race and more. With so many activities going on we divided the children into random groups with each group playing a different set of games thereby each child getting a fair chance of participation. The groups kept circulating from one game to another. It was fun watching these children playing enthusiastically, competing, and at the same time, bonding too.
Post the games session, the children were very hungry, and yes, we had yummy treat awaiting for them in form of Pav Bhaji! Second and third helpings were taken of the same. With laughter, chatter and merriment amongst the children, the teachers and staff members were also relaxed and were enjoying with the children. This was a good opportunity for our teachers to mingle with the students and build up camaraderie. With a full tummy, the children started feeling the cold December weather around them and thus the party moved towards a campfire which is a ritual at our slumber parties. After singing songs, we had another surprise stored for them in form of ice-cream. Inspite of the cold weather, all of the children enjoyed their ice cream.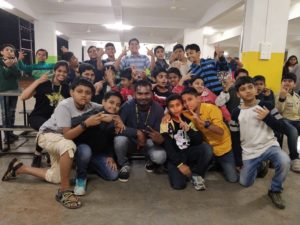 After this, it was time to sleep. But, the excitement level was so high, that many students stayed up and played board games till 4 am in the morning, hiding under the sheets when the teachers came to check on them! All in all, it was indeed an amazing evening and one the children would remember and cherish for their lifetime!