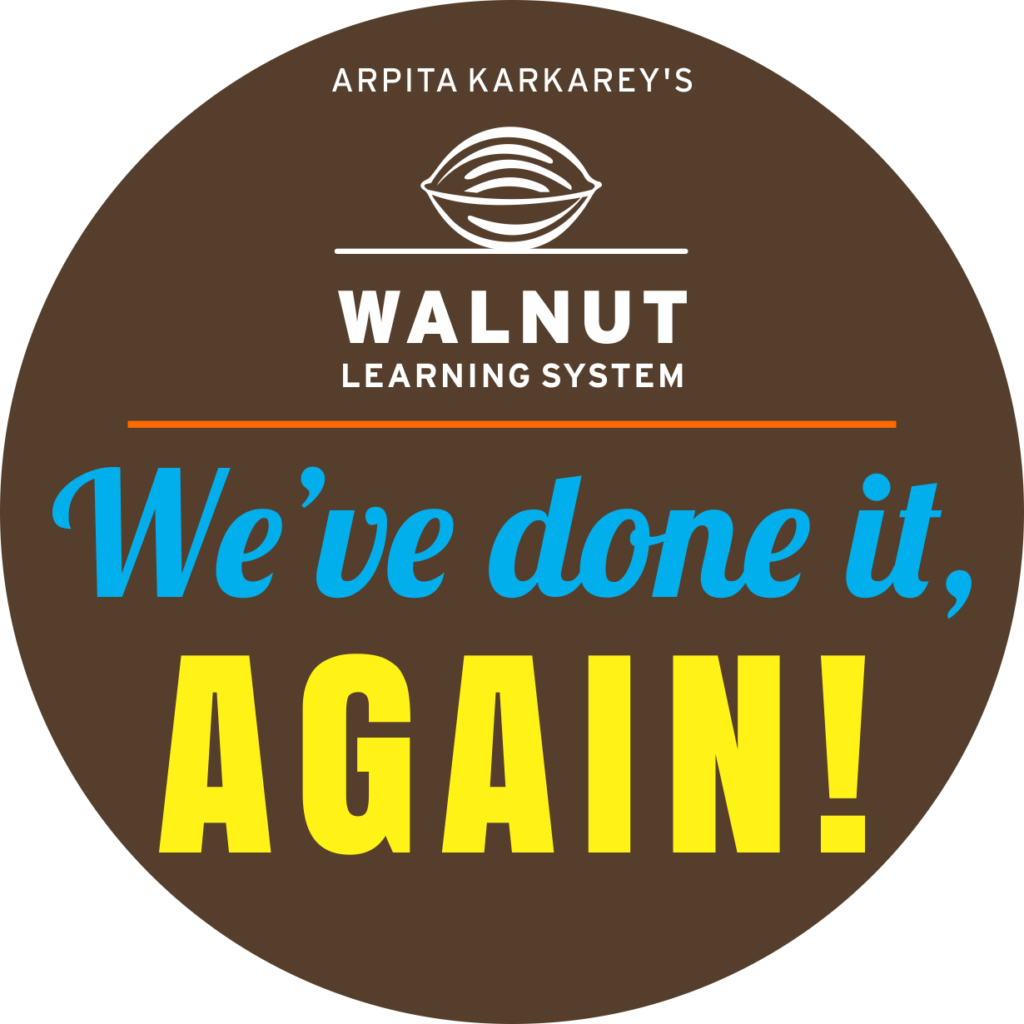 We are so very excited to tell you that Walnut has added 11 more glorious laurels to its resplendent wreath!
Our 5th standard students have totally cracked the middle school scholarship examination. 71% of our students passed (against 21% passing in Maharashtra) so we did brilliantly at that level itself. And now they have declared the merit list and we have 11 scholars who have made the cut off!
Wow! How amazing is that!
PARTH Mayadeo
POORVA Kulkarni
SHRIYA Kulkarni
PARIKSHIT Gadgil
SOUMYA Takalkar
SAMVAADI Dadhi
ABHISHEK Singh
RIYAH More
PIYUSH Deshpande
AKEEN Karkare
VENKATESH Mirasdar
Wait! There's more!"
The Scholarship examination board has declared the top 50 candidates amongst ALL the CBSE and ICSE schools in Maharashtra. And guess what?
We have 3 children in the top 50! And that means…
We are the #2 school in the whole of Maharashtra for this exam!
WOOHOO!
With 11 scholars we can proudly say that 25% of our class (which is one fourth of our class!) has made the merit cut-off! We are super proud of our 'gang'. Let's have a drum roll and call out the credits…
The students : They did it with grit and determination! What a rigorous course we had. No one complained or slacked off. The results show it.
The parents : They maintained their patience with the kids! It was a long, long time. Again, lots of enthusiasm and energy on this front.
The teachers : They kept the spirits up with interesting teaching and coming up with top ten lists and what not. They kind of 'adopted' these kids as their own and made magic happen.
The R&D team : Late night working, getting graphics and questions ready, tests and answer sheets set up. It was all done so smoothly and made it all come together.
The scholarship examination training prepares them for so many competitive examinations in the future. They get used to fast thinking, performing under pressure or rather, not getting pressurised and even finding patterns, links and connections. They understand the rigors of hard work and they enjoy the fruits of their labour in terms of their success. It's not something that's easy and these kids are already setting their mark! We should really appreciate them and encourage them and motivate their peers to perform as well. And the current 7th standard students are starting preparations for the 8th scholarship as well.
Now here's the thing – the Maharashtra Government offers scholarship awards (Rs. 25 per month for three years, so Rs. 900) ONLY to students enrolled in SSC schools. We are a CBSE school. Therefore, these kids don't get that money from the state government.
So they get a WALNUT SCHOLARSHIP of Rs. 1000 per year
We had a felicitation function on June 30th, where we invited all the parents and gave our "Scholars" a certificate and a trophy.
Want more pictures? Here they are!