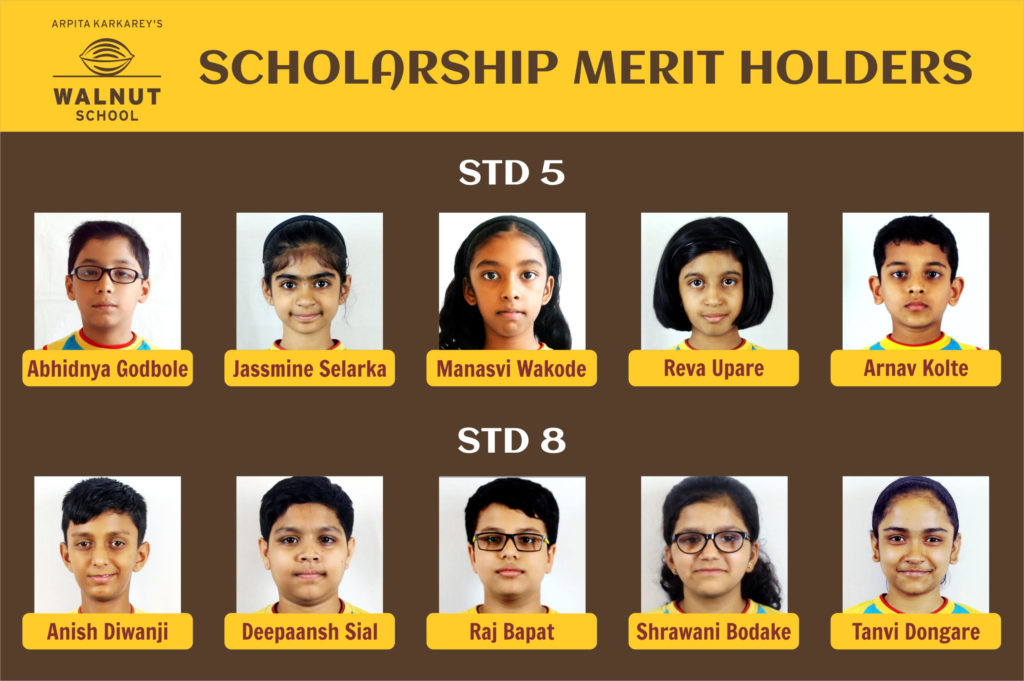 It's that time of the year again and we are proud to present the Walnut scholars to the rest of the world.
The students of STD 5 and 8 appeared for the state scholarship examination in February. The results of the exam were declared in May and the merit list was announced in June.
We are proud to declare that 5 students from the 5th and 5 students from the 8th made the cut.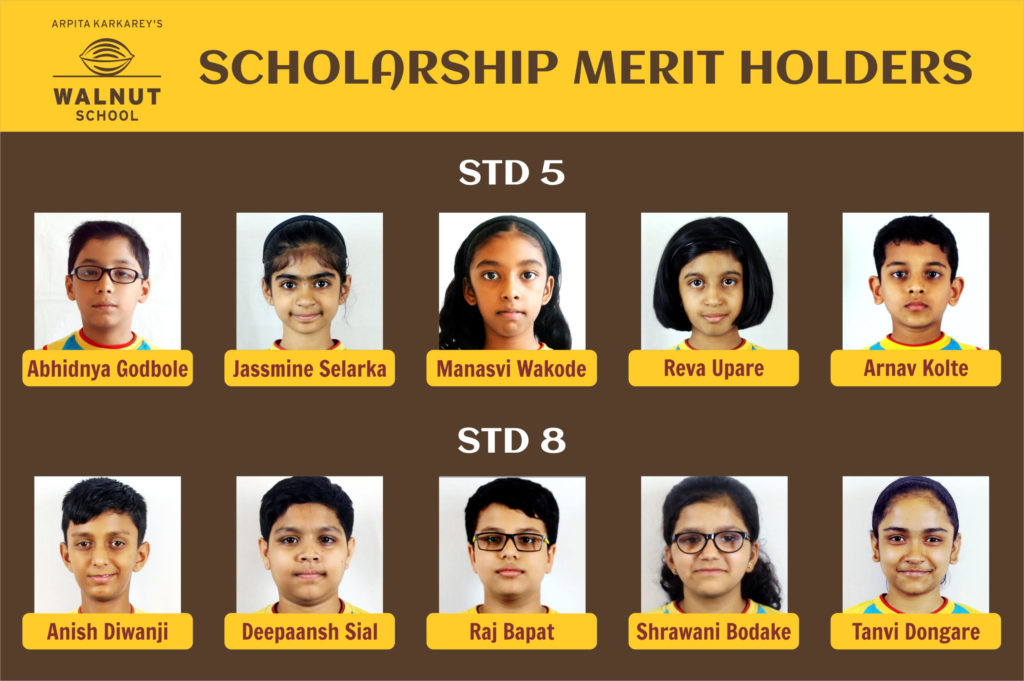 This is a matter of great pride for the students, teachers and parents as these young nuts have held their own, against students all across the state.
How do our scholars feel? Some of the primary scholars shared their experiences. Jassmine Selarka said, "There was really tough competition. When I found that my name was in the merit list, I almost began to cry. The credit for this should be given to my teachers and parents!" Arnav Kolte advised the students by sharing his experience of the training. "Studying for the scholarship exam boosted my brain to a different level. I would advice the students who are appearing for the exam to study hard. It's not easy to get into the merit list! The training helps you study for higher classes too. So do not miss even one day of the school classes", he says. Rewa Upare said, "I really improved in Math, Marathi and English because of the Scholarship preparation. I was quite nervous about the result. I am really very proud to be a scholarship merit holder."
Our high school scholars also weighed in. The high school topper from Walnut, Deepansh Sial said, "I had studied so hard, of course I was nervous about the result. The last month of preparations is crucial. The exams really enhance our ability of thinking, calculating and reasoning. I hope our school produces more and more rankers each year!" Tanvi Dongare asked the students to keep up regular practice and increase solving speed in the Math problems. She also cautioned that the centre in which the exam had to be taken might not be very good and that shouldn't distract the students. Anish Diwanji stated that the preparation for the February exam started the earlier year in July and he enjoyed doing higher level math, logical thinking and even enriching his Marathi and English vocabulary. He said, "Earlier I feared Math problems, but I finally became confident!" He advises test takers to not be too pressurized as the school has planned the training really well. Raj Bapat said, "More preparation is obviously better, but nothing is ever enough!" He adds that the school training helped a lot, with so many classes and practice tests. He also said, "After all that studying, Math is actually a lot easier. So I would advise students to study like you've never studied before and don't forget to use your brain."Shrawani B was thrilled to be in the Merit List too. "I still don't believe I made the merit list. I am proud to be in a school that helped us so much!" she beamed.
  We are also very happy to share that all the students who were coached for this exam, even the ones who didn't make the merit cut off, recorded good personal improvement. It is a good experience to run a mental race against time and keep your calm while at the same time to be able to think clearly and try to answer maximum number of questions. They have the experience of training and appearing for a large scale public examination already. Nervousness and anxiety are natural feelings when preparing and appearing for such tests and our team did very well. Hats off to our team of researchers and teachers who prepared the material and taught it all and set short tests as well as conducted 22 rounds of prelims. We cannot think of a better mix of people to take on such a mammoth task. Our parents did a great job of keeping the students motivated and pulling them up when they were down. And the biggest round of applause to our students who actually stuck through this mental marathon! You're our champions, take a bow.
Since we are a CBSE school, the state government does not offer any award to our scholars. However, we don't let that stop us from appreciating their victory. Walnut School gives these students a scholarship every year, for three years to recognise their achievements and encourage them to go forth for the next one with the same energy.
So, are our next student batches of 5th and 8th ready?
You also might be interested in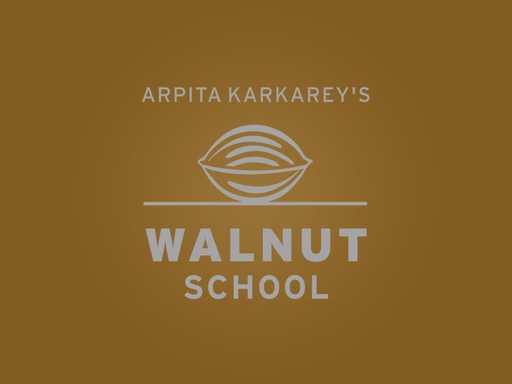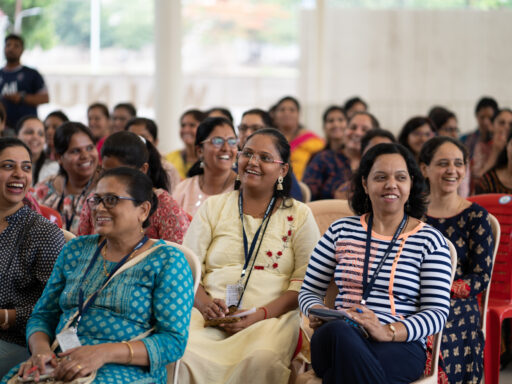 Dear Parents,
As you know, we have always been on the lookout for innovative and quality teachers. These 'teachers' are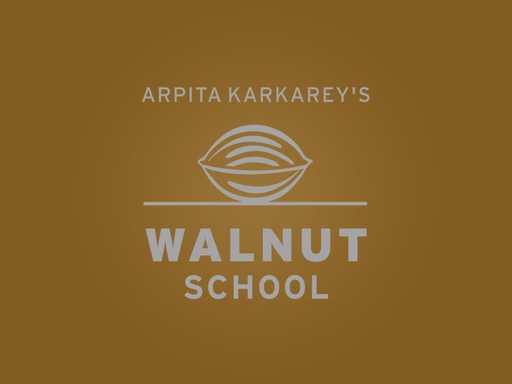 Walnut School is proud to be associated with platforms which promote innovation, curiosity and even entrepreneurship. One such platform which
Arpita Karkarey writes how she addresses all the problems plaguing our schooling system, with careful planning and attention to detail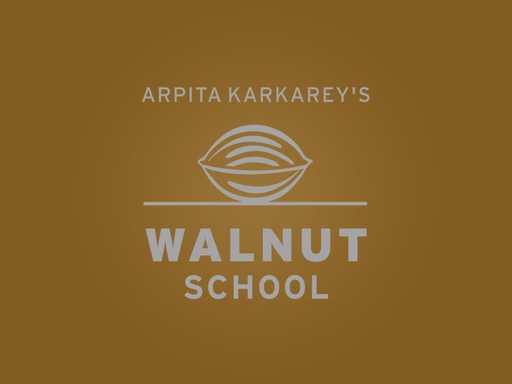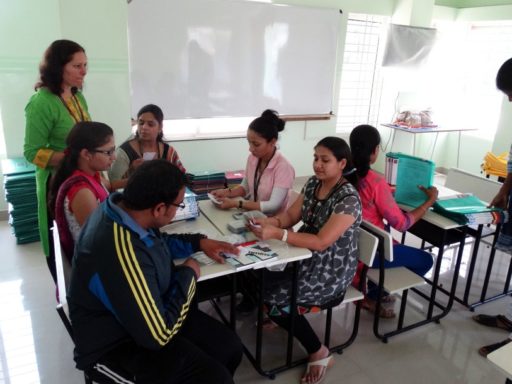 The journey so far has been a very exciting one. We have crossed 400 admissions in the first year itself! We would like to thank our parents profusely for putting tremendous faith in our educational system. No doubt, we will be making sure that we live up to their expectations.