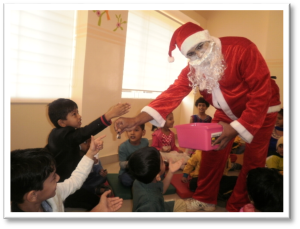 Which kid can resist Christmas? The weather is right, New Year is around the corner, there's the promise of singing and dancing and the whole idea of Santa Claus. The atmosphere was so charged up at Walnut on the 24th of December. The children knew there was a 'surprise' in store for them on that day and the curiosity itself was too much for them to handle. And on that day, early in the morning, they had a lesson on Kite Flying! Can you imagine learning that in school these days? They just couldn't contain their excitement. They had a free schedule for snacks that day, so they all had yummy treats from home. Along with that, they got served cake in the school too.
They thought that was it, but then there was an all out dance session where not only the teachers, but Santa too shook a leg. Imagine what a sporting, spirited Santa we had! And then, when they were all sweaty and tired, they got served Rasna. After that they played a lot of group games that the teachers had  specially organized for them. The children were really super charged up and excited. They just didn't want the day to end. Some actually requested us (read that as pleaded on bent knee and folded hands!) to call their parents and tell them that they could be picked up at 7 in the evening!
Well, that is how our Nutlets rang the new year in. That was the last day of 2015. All our staff bade them goodbye and waited for them to come back refreshed after the winter break to tackle the last two units of the year.
Happy New Year every body. Hope you all have a great one!