Diwali Carnival
At Walnut School, we believe that our children must understand our rich and vibrant traditions. India is a diverse country, and one festival which brings India together on one ground, is of course, Diwali.
The Diwali Carnival is an eclectic mix of various facets of our tradition. It is the most sought after major event in Walnut School – by the students, parents and all our staff. All our children participate in the Diwali Carnival, right from the planning stage. They participate in deciding what items will be organized and when, the movement of students and the schedule too.
The Diwali Carnival features traditional dances and display of various talents by our students, along with traditional dhol-tasha shows in the form of parades in front of an adoring audience, in the form of parents, relatives and friends. Not only that, we have on display, diyas and rangolis made by our young students and lanterns made by our older students.
Parents are an integral part of this celebration of our tradition. Parents are asked to come dressed in their best traditional clothes and we give out prizes for the a variety of criteria – this itself has become a competition in itself!
When it comes to tradition, Killa (Marathi for fort) making is one of the top items on the list. All our students get their hands dirty and create forts equipped with soldiers, and of course, Shivaji Maharaj! It is a sight to see with rows and rows of killas on display.
There are ample food stalls put up to serve fresh and delicious food which fuels the energy of all our students, parents and staff. All in all, the Diwali Carnival leaves everyone in high spirits in the end and asking for more!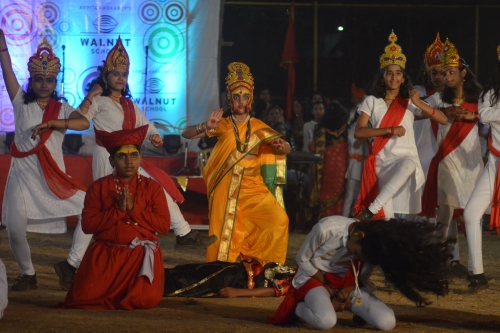 Huge rangoli in entrance area, pataka and lighting decorations all over the school building and grounds. The atmosphere was charged and set for the Diwali Carnival.
Read More